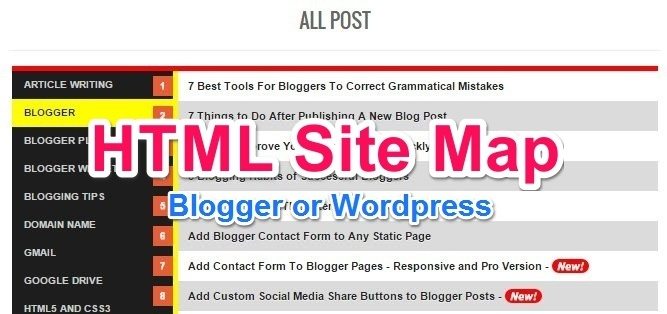 Hello Friends, Agar aapki koi website hai to aapne Google search console me apni usko add karke apni site ka .xml site map jarur add kiya hoga, agar nahi kiya to abhi kare ye bhut jaruri hai hamari site ko search me achi se index karne ke liye.. Ussi trha HTML SiteMap bhi hota hai jiske bare me ham aaj baat karege.
Start karne se phele aap ek bar mera HTML Site Map dekh lijiye aapko sab samaj aa jayega ki ye kya hai or iska kya use hai.
Kya hai Site Map?
Site Map simple hamari puri Post ki list hoti hai, jiski madad se Search Engine ko hamari site ko jaldi se index karke post ko search me dikhne me madad milti hai.
Site Map ham 2 trha ke bana sakte hai –
.xml Site Map: ye sirf search engine ke liye hota hai, jiski madad se hamari post ko search me aane me madad milti hai.

.html Site Map:

 is site map me bhi hamari puri post ki list hoti hai, par ye HTML format me hone ki baja se ham bhi usko pad sakte hai, jisse ek faida ye hai ki hamare visitor ko hamari puri post ki list ek page par mil jayegi or wo jisko padna chahe pad sakte hai.
.XML Site Map kaise Google me Submit kare uski jankari yaha hai
HTML SiteMap kaise Banaye Blogger me
Jada na khichte huee simple me aapko batata hu kya karna hai, HTML SiteMap banane ke liye Blogger me.
Step 1: Apne Blogger ke Dashboard me ja kar New Page Create kare.


Step 2: Ab jo Page Editor me Title me jo aap chahe Daal sakte hai.. (All Post, SiteMap, Puri Post, …)
Page ki Body me ye Code dalna hai, HTML section me.
<div id="tabbed-toc">
<span class="loading">Loading, please wait for a moment...</span></div>
<br />
<script type="text/javascript">
var tabbedTOC = {
    blogUrl: "http://hindimehelp.com", // Enter your blog URL
    containerId: "tabbed-toc", // Container ID
    activeTab: 1, // The default active tab index (default: the first tab)
    showDates: false, // `true` to show the post date
    showSummaries: false, // `true` to show the posts summaries
    numChars: 200, // Number of summary chars
    showThumbnails: false, // `true` to show the posts thumbnails (Not recommended)
    thumbSize: 40, // Default thumbnail size
    noThumb: "", // A "no thumbnail" URL
    monthNames: [ // Array of month names
        "January",
        "February",
        "March",
        "April",
        "May",
        "June",
        "July",
        "August",
        "September",
        "October",
        "November",
        "December"
    ],
    newTabLink: true, // Open link in new window. `false` to open in same window
    maxResults: 99999, // Maximum post results
    preload: 0, // Load the feed after 0 seconds (option => time in milliseconds || "onload")
    sortAlphabetically: true, // `false` to sort posts by published date
    showNew: 7, // `false` to hide the "New!" mark in most recent posts or
 //define how many recent posts are to be marked by changing the number
    newText: " - <em style='color: white;padding: 1px 5px;border-radius: 20px;background-color: #F00;'>New!</em>" // HTML/CSS for
//the "New!" text
};
</script>
<script src="https://googledrive.com/host/0B_PLgWpOK_wTazVMekZ3TTBiY2M/" type="text/javascript"></script>
<style>
/*Sitemap  */
#tabbed-toc {
 width: 99%;
 margin: 0 auto;
 overflow: hidden !important;
 position: relative;
 color: #222;
 border: 0;
 border-top: 5px solid #FC0204;
 background-color: #1D1D1D;
 -webkit-transition: all 0.4s ease-in-out;
}
#tabbed-toc .loading {
 display:block;
 padding:5px 15px;
 font:normal bold 11px Arial,Sans-Serif;
 color:#FFF;
}
#tabbed-toc ul,
#tabbed-toc ol,
#tabbed-toc li {
 margin:0;
 padding:0;
 list-style:none;
 }
#tabbed-toc .toc-tabs {
 width: 24.8%;
 float: left !important;
}
#tabbed-toc .toc-tabs li a {
 display:block;
 font:normal bold 10px/28px Arial,Sans-Serif;
 height:28px;
 overflow:hidden;
 text-overflow:ellipsis;
 color:#ccc;
 text-transform:uppercase;
 text-decoration:none;
 padding:0 12px;
 cursor:pointer;
  -webkit-transition: all 0.3s ease-in-out;
}
#tabbed-toc .toc-tabs li a:hover {
 background-color: #515050;
 color: #FFF;
 }
#tabbed-toc .toc-tabs li a.active-tab {
 background-color: #FFFC03;
 color: #222;
 position: relative;
 z-index: 5;
 margin: 0 -2px 0 0;
}
#tabbed-toc .toc-content,
#tabbed-toc .divider-layer {
 width: 75%;
 float: right !important;
 background-color: #F5F5F5;
 border-left: 5px solid #FFFC03;
 -webkit-box-sizing: border-box;
 -moz-box-sizing: border-box;
 box-sizing: border-box;
 -webkit-transition: all 0.3s ease-in-out;
}
#tabbed-toc .divider-layer {
 float:none;
 display:block;
 position:absolute;
 top:0; right:0; bottom:0;
}
#tabbed-toc .panel {
 position:relative;
 z-index:5;
 font:normal normal 10px Arial,Sans-Serif;
}
#tabbed-toc .panel li a {
 display: block;
 position: relative;
 font-weight: bold;
 font-size: 11px;
 color: #222;
 line-height: 2.8em;
 height: 30px;
 padding: 0 10px;
 text-decoration: none;
 outline: none;
 overflow: hidden;
 -webkit-transition: all 0.3s ease-in-out;
}
#tabbed-toc .panel li time {
 display:block;
 font-style:italic;
 font-weight:400;
 font-size:10px;
 color:#666;
 float:right;
}
#tabbed-toc .panel li .summary {
 display:block;
 padding:10px 12px;
 font-style:italic;
 border-bottom:4px solid #275827;
 overflow:hidden;
}
#tabbed-toc .panel li .summary img.thumbnail {
 float:left;
 display:block;
 margin:0 8px 0 0;
 padding:4px;
 width:72px;
 height:72px;
 border:1px solid #dcdcdc;
 background-color:#fafafa;
}
#tabbed-toc .panel li:nth-child(even) {
 background-color: #DBDBDB;
 font-size: 10px;
}
#tabbed-toc .panel li a:hover,
#tabbed-toc .panel li a:focus,
#tabbed-toc .panel li a:hover time,
#tabbed-toc .panel li.bold a {
 background-color:#222;
 color:#FFF;
 outline:none;
 -webkit-transition: all 0.3s ease-in-out;
}
#tabbed-toc .panel li.bold a:hover,
#tabbed-toc .panel li.bold a:hover time {
 background-color:#222;
}
@media (max-width:700px) {
#tabbed-toc {
 background-color:#fff;
 border:0 solid #888;
}
#tabbed-toc .toc-tabs,
#tabbed-toc .toc-content {
 overflow:hidden;
 width:auto;
 float:none !important;
 display:block;
}
#tabbed-toc .toc-tabs li {
 display:inline;
 float:left !important;
}
#tabbed-toc .toc-tabs li a,
#tabbed-toc .toc-tabs li a.active-tab {
 background-color:#222;
 color:#ccc;
}
#tabbed-toc .toc-tabs li a.active-tab {
 color:#000;
}
#tabbed-toc .toc-content {
 border:none;
}
#tabbed-toc .divider-layer,
#tabbed-toc .panel li time {
 display:none;
}
}
</style>
Credit: Code Sorce
Step 3: jo Code hai usme ek code ki line hai
blogUrl: "http://hindimehelp.com", // Enter your blog URL
usme Hindimehelp.com ki jagha apni Blog ki link dale.
Step 4: Agar Aap Chate hai ki aapke visitor is page par comment naa kare to aap comment disable bhi kar sakte hai.
Step 5: Ab Page ko Publish karde.
HTML Site Map WordPress Blog me Kaise Add kare
Isme Add karna bhi aasan hai, par iske liye hosted wordpress blog hi hona chaiye, agar Free blog hai to aap usme add nahi kar sakte.
Simple aapko isme ek Plugin hai jo add karni hai, Plugin ka naam hai Hierarchical HTML Sitemap
Tip: Agar aap HTML SiteMap ko Apne Visitor ko bhi dikhana chate hai taki wo aapki post ko aasani se pata kar sake to aap HTML Site Map Page ki Link apne Blog ki Menu me Add kare.
Blogger ki Puri Jankari yaha hai.