Do you want to make money without a Job? Are you not happy with your 9 to 5 job? Do you want to live a BOSS free life? All your answers are here below.
Making money is not that easy whether it's offline or online. But in the online field once you crack that starting trick you'll start earning money. Online world needs a bit of intelligence and smart work.
Who doesn't wants to live a boss free life? Making money is important but enjoying the work you do to make money is also important. There are multiple ways to earn but the legit and real ones are quite few which really pays you.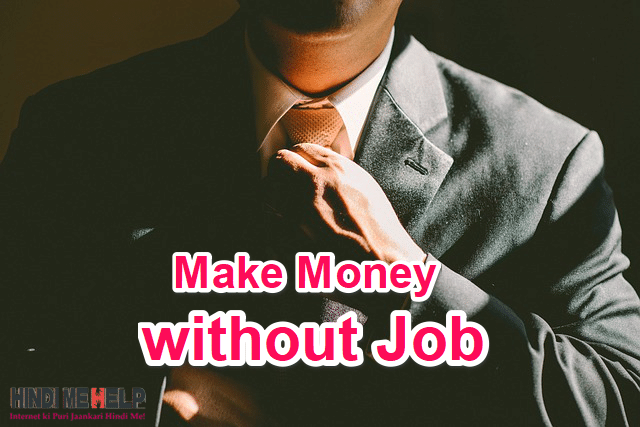 How to make money without a job?
While there are some ways like blogging, affiliate marketing, youtube and many more. In this digital era, anyone can make money online but you at least need 1 skill that can be digitally served. And if you have skills then you can definitely make money without a job.
There are thousands of websites who will tell you 100-200 ways to make money without a job, but the below-listed ones are legit and lakhs of people are earning through it.
Here are some ways to make money without a job.
Blogging
Blogging is really a good way to make passive money online. Just find out what your passion is and start your website. Blogging has a lot of potentials and if you do it in the right way then trust me you will generate good money than your 9 to 5 job.
How to start a Blog? While it's quite easy! If you have some money to invest then go with WordPress if not then go with Blogger. These are the most popular and famous content management system (CMS) so I would like to suggest you, go with Blogger or WordPress.
How to earn from a blog? Hmm, after posting some useful content on your blog you can monetize your blog with Adsense. Adsense is a google's program itself who pays to the publisher for uploading content.
Now, you can easily make money online with blogging. In this way, you can make money without a job and live a good life.
Affiliate Marketing
Affiliate Marketing is insanely powerful to make money online. Believe be Affiliate Marketing can make you a 6 figure income per month. You might not trust me, but it's true.
Those who don't know what affiliate marketing is?
Affiliate Marketing is where you recommend a certain product for percent commission. Let's suppose, you have a website who writes and reviews about digital photography camera. And now if a person comes on your website and reads the review of that camera and purchases that camera from your affiliate link then you earn a commission.
You can share your affiliate links on a platform where you have a good audience. It's not only that you must need a website to make good money.
Make sure you don't ignore this method while making money online.
YouTube
An amazing video content platform. If you have something good to share with people in the visual form then go for it.
Who doesn't knows YouTube? We all use YouTube to watch our favorite creator's videos and many more. Have you ever thought that how much money your favorite creator makes?
If your favorite creator is a popular YouTuber with millions of subscribers he might be earning $1000 at least. I've not considered their sponsorship's, affiliate links and all.
If you are willing to start a YouTube channel make sure you deliver good content to your audience, work hard and try to be as consistent as you can.
Now after you cross the benchmark of 4000 hours watch time and 1000 subscribers you'll be able to monetize your YouTube Channel.
Freelancing
If you have any skill which can be digitally served as a service then you must try to do freelancing jobs. Freelancing jobs will pay you good money according to your skills.
On freelancing sites like Fiverr and upwork, you can generate a good income. And as you start getting more and more orders you'll earn more and get a level 2 seller batch. (On Fiverr)
How to make money from home? Freelancing is one of the best ways to make money from home. There are many skills that can be displayed digitally like data entry, video editing, graphic designing, application development and many more.
Online Tutor
If you are good at teaching people online then Online Tutoring is really the best option for you. You can make money online through Online Tutoring.
There are some scammy websites available on google which doesn't pays so make sure work with a good company which pays. And one of them is Chegg. You can register yourself as an Online Tutor and can earn a good amount per hour.
It's not like you have to do it for full time instead you can take it as a part-time job and make money. If you find it more profitable then you can switch on and take it as a full-time.
You can earn up to $100 to $1500 and more than that per month. If you have that teaching passion give a shot on these sites and if you are not really interested in this make sure to not to enter this field because working for money will make you bore in a couple of weeks.
Sell Images
If you are really a good photographer then you can make decent money on these sites by selling the images. All of these days each one of us needs a quality picture and in the current demand is of highly defined images.
Are you a photographer? If yes you can list your images on these photo selling sites and as your photo is been purchased you earn money. Sites like Shutterstock can help you to do this.
There are so many niches to explore in photography, some of them like food, nature, travel, cities, festivals and many more.
Once you do quite well in this stream you'll earn enough money.
Sell Ebooks Online
If you really have good knowledge of anything and in-depth then you can write an ebook on that and can sell it.
If your book has great potential and awesome content and if the starting readers start recommending your book to their friends then there is a high possible way to generate more sales.
In the initial stage, you should not keep the value of your ebook too much. Give it a reasonable value and when your audience starts loving your content more and more you can increase the ebook price.
Making money from ebooks is also a great job to make money.
You can sell your book any receive payment with InstaMojo
Wrapping it up:
So, that was it for making money without a job.
Which way will you go with to make money online without a job? Tell us in the comment section.
Making money without a job in the initial stages will not be that easy as you think, you'll need to struggle in those stages. So, don't make a sudden decision to leave your ongoing job suddenly to make money online.
First, try to do your online job simultaneously with your job and then when you feel it's going all well then you can make a decision to make your online job full time.
Hope you liked it.