Hello Friends, Agar aapki blog/website hai to ye post aapke liye hai.. Ji haa aap ye to jante hi hoge ki me blogger se sambandhit post dalta hu site par. or mene bhut se widget bhi share kiya hai jaise Type Hindi in English, Flying Airplane, inke alawa bhi bahut se widget jinki blog me jarurat hoti hai.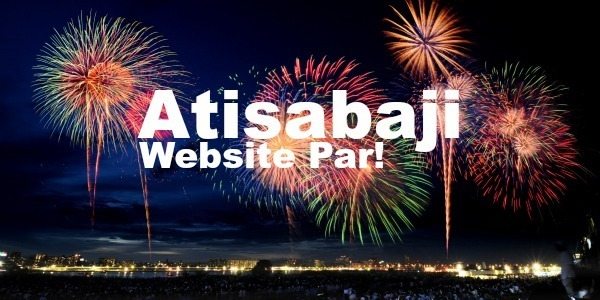 Jab bhi Hum log khush hote hai, ya fir koi tohar manate hai to ham Bamb-Patako se Atisabaji karte hai to Q na apni Site par bhi Atisabaji ki jaye,
Issi liye me laya hu ek Widget jiski madad se aap apni site par Atisabaji kar sakte hai. or Apni Khusi Apne site ke visitor ke sath mana sakte hai..
Atisabaji Widget ko Jadatar ham New Year par, Diwali par, Site ki Salgira pe Add kar sakte hai, par ham or kabhi bhi use kar sakte hai, jese hamari site ko koi nai uplabdhi mile tab.
Atisabaji Widget ko kaise Add kare Blog/Website me
Is Widget ko add karne ke liye aapko simple ek code hai jo aapko apni site ke HTML me add karna hai.
Blogger me Atisabaji Widget kaise add kare
Step 1: Apne Blogger Account me Login karke Deshboard me jaye.
Step 2: Dashboard >> Layout >> Add Gadget >> HTML/JavaScript me jaye.
Tip: Agar aap apne blog me pehle se HTML/Javascript widget use karte hai to usko edit karke usme is code ko bhi dale, jisse aapke blog me extra widget nahi badge.
Step 3: Ab aapko HTML/Javascript Widget ke title me kuch nahi dena hai or Bade hisse me is Code ko dale.
Code Copy Kare (Select karke Ctrl+C dabaye)
<!– Atisabaji Widget for Blog-Website by HMH.pe –>
<script type="text/javascript">
// <![CDATA[
var bits=80; // how many bits
var speed=33; // how fast - smaller is faster
var bangs=5; // how many can be launched simultaneously (note that using too many can slow the script down)
var colours=new Array("#03f", "#f03", "#0e0", "#93f", "#0cf", "#f93", "#f0c");
//                     blue    red     green   purple  cyan    orange  pink
var bangheight=new Array();
var intensity=new Array();
var colour=new Array();
var Xpos=new Array();
var Ypos=new Array();
var dX=new Array();
var dY=new Array();
var stars=new Array();
var decay=new Array();
var swide=800;
var shigh=600;
var boddie;
if (typeof('addRVLoadEvent')!='function') function addRVLoadEvent(funky) {
  var oldonload=window.onload;
  if (typeof(oldonload)!='function') window.onload=funky;
  else window.onload=function() {
    if (oldonload) oldonload();
    funky();
  }
}
addRVLoadEvent(light_blue_touchpaper);
function light_blue_touchpaper() { if (document.getElementById) {
  var i;
  boddie=document.createElement("div");
  boddie.style.position="fixed";
  boddie.style.top="0px";
  boddie.style.left="0px";
  boddie.style.overflow="visible";
  boddie.style.width="1px";
  boddie.style.height="1px";
  boddie.style.backgroundColor="transparent";
  document.body.appendChild(boddie);
  set_width();
  for (i=0; i<bangs; i++) {
    write_fire(i);
    launch(i);
    setInterval('stepthrough('+i+')', speed);
  }
}}
function write_fire(N) {
  var i, rlef, rdow;
  stars[N+'r']=createDiv('|', 12);
  boddie.appendChild(stars[N+'r']);
  for (i=bits*N; i<bits+bits*N; i++) {
    stars[i]=createDiv('*', 13);
    boddie.appendChild(stars[i]);
  }
}
function createDiv(char, size) {
  var div=document.createElement("div");
  div.style.font=size+"px monospace";
  div.style.position="absolute";
  div.style.backgroundColor="transparent";
  div.appendChild(document.createTextNode(char));
  return (div);
}
function launch(N) {
  colour[N]=Math.floor(Math.random()*colours.length);
  Xpos[N+"r"]=swide*0.5;
  Ypos[N+"r"]=shigh-5;
  bangheight[N]=Math.round((0.5+Math.random())*shigh*0.4);
  dX[N+"r"]=(Math.random()-0.5)*swide/bangheight[N];
  if (dX[N+"r"]>1.25) stars[N+"r"].firstChild.nodeValue="/";
  else if (dX[N+"r"]<-1.25) stars[N+"r"].firstChild.nodeValue="\\";
  else stars[N+"r"].firstChild.nodeValue="|";
  stars[N+"r"].style.color=colours[colour[N]];
}
function bang(N) {
  var i, Z, A=0;
  for (i=bits*N; i<bits+bits*N; i++) {
    Z=stars[i].style;
    Z.left=Xpos[i]+"px";
    Z.top=Ypos[i]+"px";
    if (decay[i]) decay[i]--;
    else A++;
    if (decay[i]==15) Z.fontSize="7px";
    else if (decay[i]==7) Z.fontSize="2px";
    else if (decay[i]==1) Z.visibility="hidden";
    if (decay[i]>1 && Math.random()<.1) {
       Z.visibility="hidden";
       setTimeout('stars['+i+'].style.visibility="visible"', speed-1);
    }
    Xpos[i]+=dX[i];
    Ypos[i]+=(dY[i]+=1.25/intensity[N]);
  }
  if (A!=bits) setTimeout("bang("+N+")", speed);
}
function stepthrough(N) {
  var i, M, Z;
  var oldx=Xpos[N+"r"];
  var oldy=Ypos[N+"r"];
  Xpos[N+"r"]+=dX[N+"r"];
  Ypos[N+"r"]-=4;
  if (Ypos[N+"r"]<bangheight[N]) {
    M=Math.floor(Math.random()*3*colours.length);
    intensity[N]=5+Math.random()*4;
    for (i=N*bits; i<bits+bits*N; i++) {
      Xpos[i]=Xpos[N+"r"];
      Ypos[i]=Ypos[N+"r"];
      dY[i]=(Math.random()-0.5)*intensity[N];
      dX[i]=(Math.random()-0.5)*(intensity[N]-Math.abs(dY[i]))*1.25;
      decay[i]=16+Math.floor(Math.random()*16);
      Z=stars[i];
      if (M<colours.length) Z.style.color=colours[i%2?colour[N]:M];
      else if (M<2*colours.length) Z.style.color=colours[colour[N]];
      else Z.style.color=colours[i%colours.length];
      Z.style.fontSize="13px";
      Z.style.visibility="visible";
    }
    bang(N);
    launch(N);
  }
  stars[N+"r"].style.left=oldx+"px";
  stars[N+"r"].style.top=oldy+"px";
}
window.onresize=set_width;
function set_width() {
  var sw_min=999999;
  var sh_min=999999;
  if (document.documentElement && document.documentElement.clientWidth) {
    if (document.documentElement.clientWidth>0) sw_min=document.documentElement.clientWidth;
    if (document.documentElement.clientHeight>0) sh_min=document.documentElement.clientHeight;
  }
  if (typeof(self.innerWidth)!="undefined" && self.innerWidth) {
    if (self.innerWidth>0 && self.innerWidth<sw_min) sw_min=self.innerWidth;
    if (self.innerHeight>0 && self.innerHeight<sh_min) sh_min=self.innerHeight;
  }
  if (document.body.clientWidth) {
    if (document.body.clientWidth>0 && document.body.clientWidth<sw_min) sw_min=document.body.clientWidth;
    if (document.body.clientHeight>0 && document.body.clientHeight<sh_min) sh_min=document.body.clientHeight;
  }
  if (sw_min==999999 || sh_min==999999) {
    sw_min=800;
    sh_min=600;
  }
  swide=sw_min;
  shigh=sh_min;
}
// ]]>
</script>
Ab apne Blog ko Open karke Dekhe or Atisabaji ka Luft utaye apne site par :)
*Agar aap WordPress use karte hai, to usme bhi aapko HTML Widget me iss code ko dalna hai.
To Friends har bar ki trha is bar bhi bataye aapko ye Widget kesa laga or agar aapne isko apne site me add kiya hai to comment karke bataye or apni website ki link website ke box me dale taki me aapki site ko open karke dekhe sake.