YouTube is the world's largest video-sharing site and the 2nd largest social network just after Facebook. The platform has expansive localization and its intuitive interface are the factors that have driven users to the platform.
You can find videos on almost any niche on YouTube. Just search and you have it! Whether it's beauty tips, cooking recipes, mobile phone & automobile reviews, life hacks, and the list goes on and on. The YouTube search bar can get you a video related to almost anything!
If you are a business owner looking for assistance to enhance your business, YouTube can prove to be the perfect option. This post explores 10 YouTube stats that can help you in boosting your business. Let's get right to it!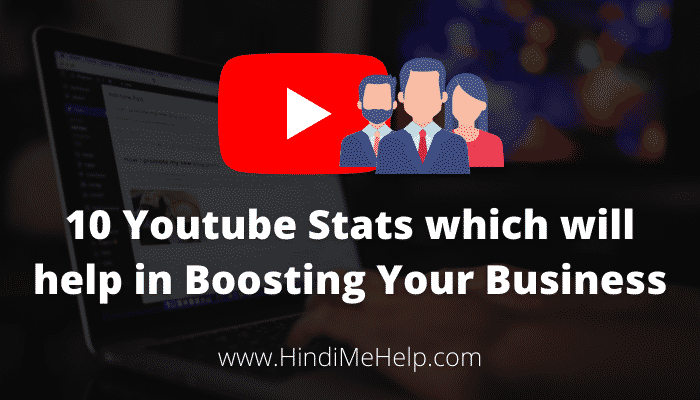 10 Fascinating YouTube Statistics for Business Marketing
1. YouTube is the Second Largest Social Media Platform
Since YouTube's inception, its goal has been to offer viewers quick and simple access to video content, as well as the opportunity to share videos regularly.
And it has expanded beyond any expectations since then. It's no secret that YouTube is a rapidly expanding social media network, and is only behind Facebook in terms of active users.
One of the primary reasons YouTube maintains its dominance in the business is its accessibility. The platform makes it very simple to get started and reach a big audience with your work.
2. YouTube Effectively with the Local Audience
YouTube is available in more than 80 different languages. This includes the most widely spoken languages on the planet, such as English, Spanish, and Mandarin, as well as more obscure ones like Azerbaijani, Khmer, and Laotian.
Indeed, the vast majority of YouTube videos are not even in English. According to a study, two-thirds (67%) of popular YouTube channels' videos are in foreign languages. Only 28% of the remainder are in English, while the remaining 5% are in other languages.
3. YouTube is the Second Most Popular Search Engine
YouTube is the second most accessed search engine globally. Indeed, it gets more monthly queries than Microsoft's Bing, AOL, Yahoo, and Ask.com combined.
As previously said, over two billion of its users — about one-third of all internet users — log in each month. However, it is not all. Each day, YouTube users watch over one billion hours of video and are responsible for creating billions of views.
The platform's prominence enables it to access a large audience, which is particularly true on mobile devices. According to the business, it now reaches more US mobile users than any other tv channel.
4. About 2.3 billion Users Access YouTube Every Month
If you Refer to the latest youtube statistics, the video-sharing site will have 2.3 billion subscribers globally by 2021. It is rated as the second-most popular social network, with only Facebook having more active members than YouTube.
This YouTube user data has the potential to be very valuable to advertisers in 2021. With over two billion people coming in every month to view videos on the platform, marketers have the opportunity to tap into a large and engaged market.
YouTube, with its even greater reach, will undoubtedly prove to be an excellent venue for your digital marketing efforts.
5. 1 billion Hours of Content is Consumed Every day on YouTube
Every day, one billion hours of video are seen on YouTube, resulting in billions of views. Let's do the math. If every single individual on the planet viewed a video, it would amount to about 8.4 minutes each day per person.
That is an astounding figure that just adds to the credibility of video as a source of information for people.
Marketers should use video to their advantage and tailor their content to the increasing popularity of video content. You may begin producing video content on YouTube in an infinite number of ways.
6. Businesses are Actively Leveraging YouTube
As the value of video content grows, more and more companies are turning to it. According to statistics, 62% of companies utilize YouTube as a platform to publish video content. It is the second most popular medium for companies to distribute video content, behind Facebook.
Businesses may profit greatly from YouTube due to its many advantages and possibilities. However, just 9% of all small companies in the US utilize YouTube.
Producing videos may seem to be time-consuming and costly for small companies, but there are numerous free stock video websites such as InVideo that help them get started with their video production requirements.
7. YouTube is Immensely Popular Among Digital Media Viewers in the US
YouTube is by far the most dominating force, accounting for almost nine out of 10 digital video viewers in the United States.
This puts YouTube far ahead of its nearest rival, Facebook, which accounts for just 60% of US digital video watchers. Instagram is in second place with 35%, followed by Twitter and Snapchat with 21% and 18%, respectively.
In comparison, CNN, the most popular news network for digital video consumption, is viewed by just 17% of US digital content watchers.
8. Mobile Viewing is Gaining Prominence
Mobile devices account for more than 70% of YouTube viewing time. You and your company simply cannot afford to overlook the enormous potential that mobile offers for increasing the exposure of your brand.
It is clear that mobile views have grown considerably quicker than desktop viewership, and as a result, it is critical to remain on the trend with mobile video to provide your audience with the information that they want to watch.
9. YouTube is Great for Product Discovery
90% of consumers claim they find new companies or goods on YouTube. While this does not necessarily persuade consumers to purchase your goods or services, it does convey the idea.
YouTube may help you promote your goods. If you're attempting to break into a new market or improve the visibility of a product, you may create a film highlighting its advantages.
With video material growing more competitive every day, the key thing to remember is originality. The more original your material, the more likely your audience will get enamored with your style and yearn for more.
10. 720,000 Hours of Video Content is Uploaded Every day on the Platform
Every minute, 500 hours of video are posted to YouTube across the globe. Every hour, 30,000 hours of video are uploaded. Every day, 720,000 hours of video are posted to YouTube. It's no surprise that YouTube is expanding its channel reach.
As a result, companies cannot afford to ignore YouTube. Businesses may profit from YouTube by creating a community and engaging with their consumers, displaying their goods, or advertising on the site.
Conclusion
If you are on the fence about including YouTube in your marketing mix, these 10 statistics might have cleared up a few things. These statistics portray the extent of reach YouTube has garnered over the years and how your business could benefit from it.
If you want to reap the rewards of YouTube, it's highly suggested that you start now with your first video!